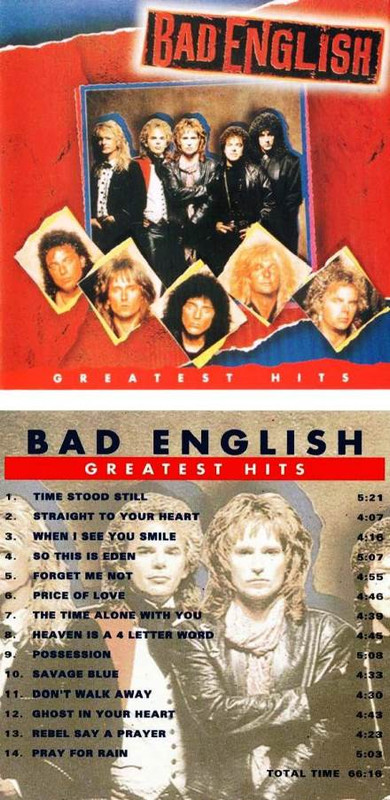 Bad English - Greatest Hits (2CD) (1995) FLAC

Bad English was an English/American hard rock/glam metal supergroup formed in 1987. It reunited keyboardist Jonathan Cain of Journey with singer John Waite and bassist Ricky Phillips, his former bandmates in The Babys, along with Journey guitarist Neal Schon.

Genre: Rock, Soft Rock, Hard Rock, Power Pop
Country: U.S.
Year: 1995
Label: Epic/Sony
Audio codec: FLAC
Rip type: tracks + CUE
Duration: 1:06:44 + 00:19:36
Source: CD
Scans included

CD1:
01. Time Stood Still.
02. Straight To Your Heart.
03. When I See You Smile.
04. So This Is Eden.
05. Forget Me Not.
06. Price Of Love.
07. The Time Alone With You.
08. Heaven Is A 4 Letter Word.
09. Possession.
10. Savage Blue.
11. Don't Walk Away.
12. Ghost In Your Heart.
13. Rebel Say A Prayer.
14. Pray For Rain
CD-2 (extra CD):
01. Price Of Love (Remix).
02. Dancing Off The Edge Of The World.
03. Best Of What I Got.
04. The Restless Ones.
#gnv64 -> To avoid fakes, ALWAYS check that the torrent was added on litoral-2008.info by gnv64
http://litoral-2008.info/